TOOL GRIP CUSTOMIZATION FOR THE PREVENTION OF WRIST INJURIES
2020-2021
BRIEF:
Wrist sprains and strains are one of the most common types of injuries and one of the most costly to the healthcare system. They are often without a single cause, as stresses to the wist from a variety of factors build on one another. In sport, leisure, and work contexts, a variety of products and practices are used to lower the risk of these types of injuries, but little is currently done in the home environment where 34% of these injuries are reported to occur. One size does not fit all, and incorrect sizing results in increased energy expenditure and risk of injury. Affine is a system of tool grip customization for the prevention of cumulative wrist injuries. Its proof of concept takes the form of a knife, as cutting and chopping are one of the most common triggers of wrist pain in the home. The user can input their own measurements and hold preferences which will automatically be converted into a truly individualized handle. Disassembly and repairability extend the lifespan of affine and allows products to be easily swapped between users without putting anyone in any extra risk. Affine is focused on prevention of injury, but the same things that prevent injuries can also help those suffering from them as well.
Role:
Project managment, research, design and development

Cumulative injuries (also called repetitive strain injuries) often don't have a single, distinct, cause. These injuries have the potential to affect anyone, but those with genetic predispositions, pre-existing conditions, or who spend a particularly large amount of time doing repetitive tasks in an awkward position are more likely to be affected. Though there has been a lot of design focused on preventing these types of injuries in the work and sports/leisure contexts, very little currently exists specifically to tackle the issue of cumulative wrist injuries in the home environment. Some assistive devices exist, but are generally not intended for prevention, can have stigmas associated with them, and can be hard to access by those who need them. How might we prevent cumulative hand and wrist injuries in the home environment in a way that is accessible to those at risk?
This project consisted of a three month research period and a three month design period. This process began with a literature review. A number of interviews were conducted over the course of the research portion of this project with experts in a variety of fields. The people I spoke to included a reconstructive and cosmetic plastic surgeon/hand surgeon, hand therapist, and the owner of an innovative wrist brace company. All of these interviews provided important insights that impacted the rest of the design process. I also surveyed and spoke directly to people currently experiencing hand and wrist pain and joined many online groups to get a better understanding of what particular issues are currently being overlooked.
The health issues caused by using the wrong shaped or sized tools for the wrong tasks became apparent in my research and was reflected by my own experience with wrist pain. The more I thought about it, the stranger it seemed that the tools we use at home might not fit us. Other things from clothes to desk chairs are adjustable, customizable, or sized, so why not the tools we use everyday? I also saw a lot of potential for further development with this concept. It could be easily adapted to be applied to tools and equipment in other contexts for different users.
Prototyping was a constant, ongoing process throughout this project. I started without a clear idea of what my final redesigned object would be, or whether it would be a single object or a set with multiple objects. I knew from my research that using a knife was a common pain point for those with wrist pain, so I chose to use the knife handle as a proof of concept for my design. I began with lots of quick prototypes with plasticine, experimenting with ways of supporting the curves of the hand. From these quick plasticine experiments I moved on to foam modeling. As I continued prototyping throughout the concept development, my models became more defined and I moved onto 3d modeling, 3d printing, and finally CNC.
Material and Manufacturing Exploration
With a form in mind I began to experiment with a few materials. I started by cutting and laminating materials I had on hand and creating an approximation of the from. I wanted to create a unique, layered look without creating a monstrous hybrid of materials. Through this early process I was able to determine the best layer sizes for desired outcome and get a feel for the weight and workability of different materials. At the same time I began to look further into constructions options. A key consideration in anything I design is disassembly and repairability. With this concept in particular, I wanted to prolong the product's lifetime by letting users replace or swap out handles when necessary.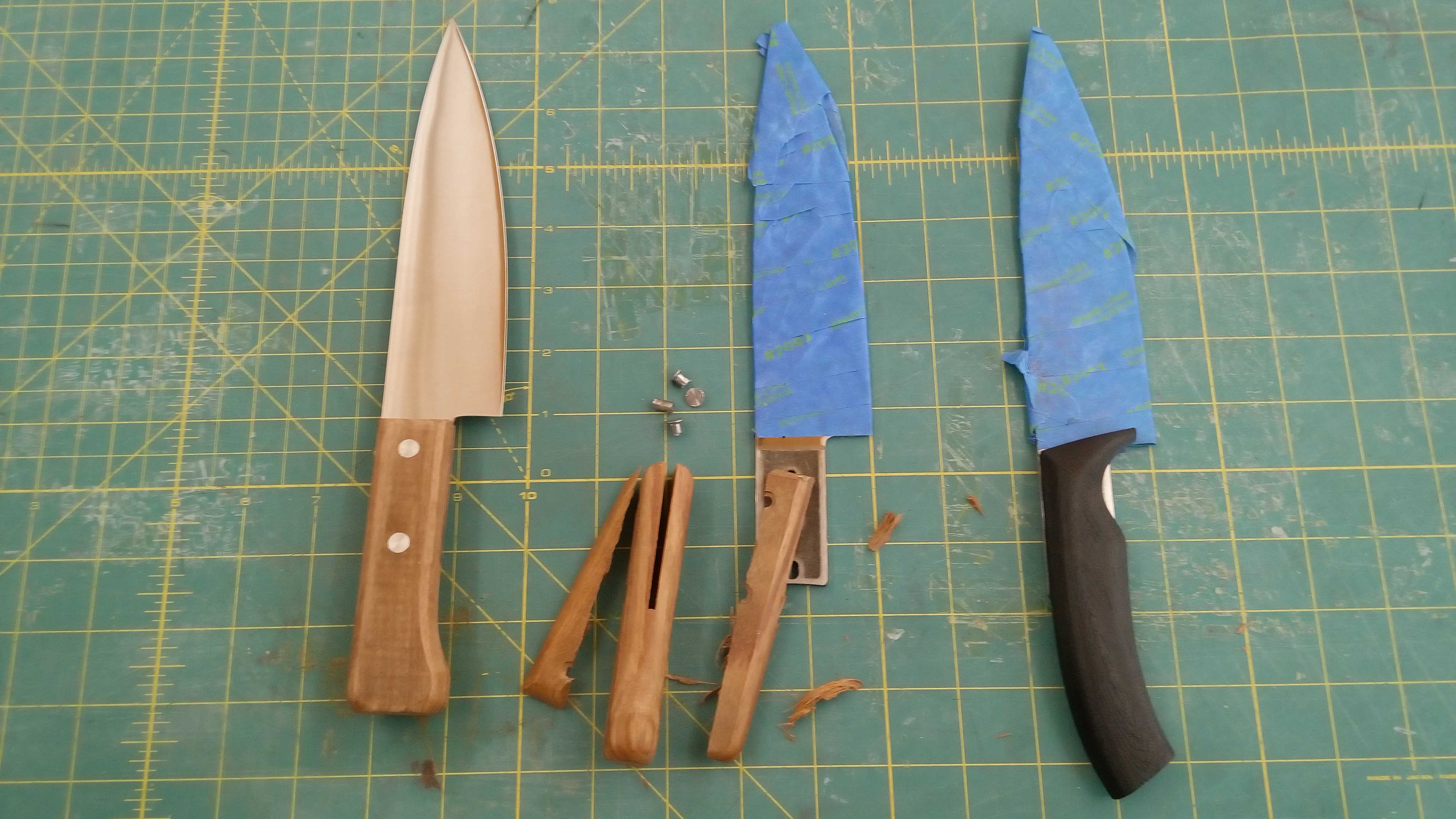 The goal was to achieve a form that was very comfortable and fit in the hand well, while also not making a form so unusual that it was unrecognizable as a handle. Aesthetically, the form needed to be balanced and fit an "ergonomic look", while functionally, it needed to be manufacturable by CNC and have clear points of manipulation within the 3D model/sketch to allow for customization. I made many, many models, experimenting with both form and function. I then charted them by some key metrics, including my initial design criteria, to determine what form to move forwards with. By the very definition of my concept, the form is not stagnant, it is variable, so whatever form I chose was only just the starting point.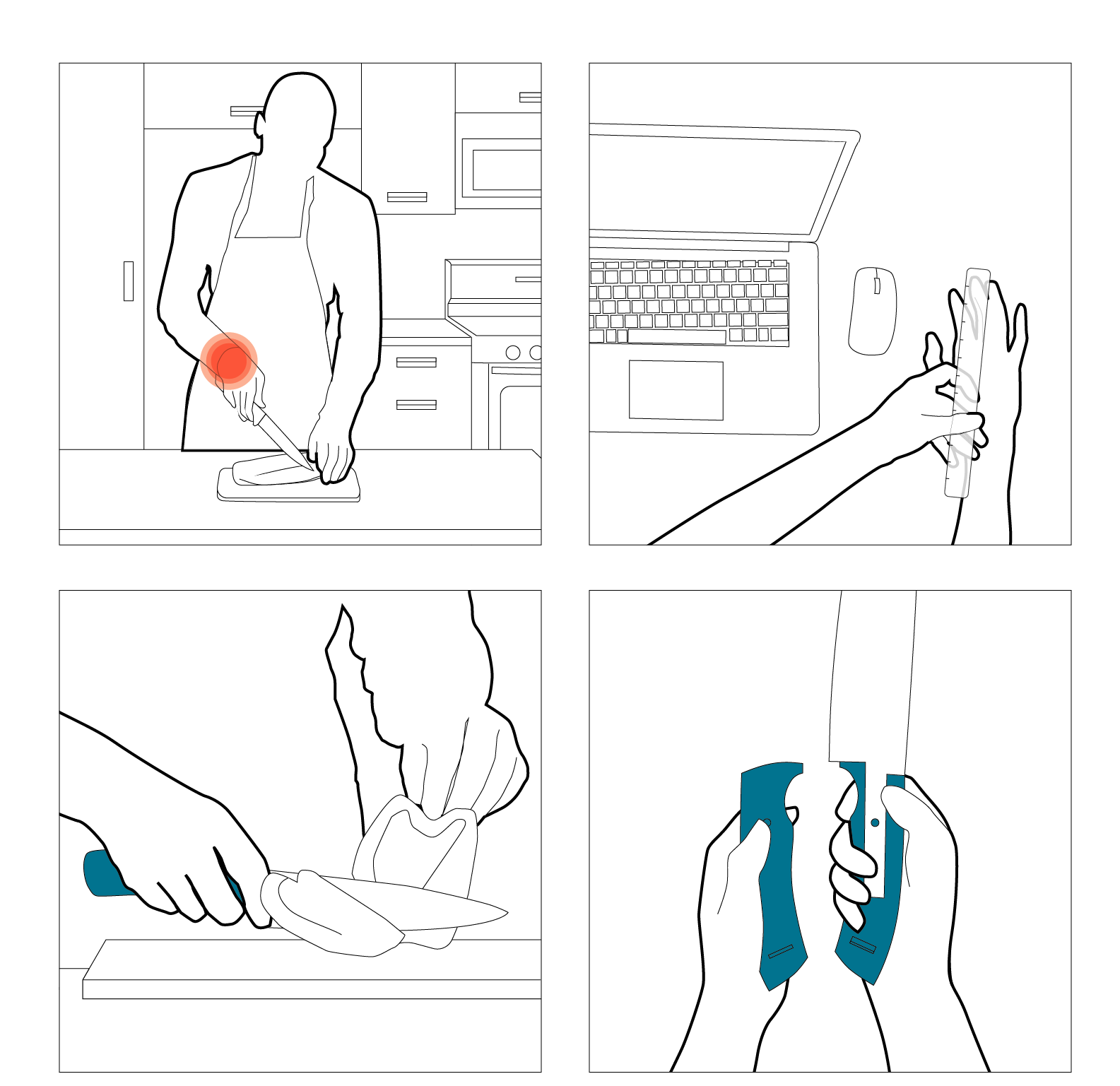 Affine is a system for tool grip customization for the prevention of wrist injuries. It consists of a physical design in the form of a knife handle and an interface for users to use to directly influence their end product. If this concept were to move forwards, partnership with other brands and manufacturers would be instrumental for success. There are future opportunities to utilize unique and innovative materials and technology for production. Things like 3D printed wood or metal could lower waste while increasing longevity. I believe the concept behind my design could be applied to many other products and sectors. I particularly see opportunity in the trades sector where current sizing caters to male dimensions and safety is of much higher priority then it is in the home.