Core77 2021 Student award winner in Commercial Equipment.
BRIEF:
Injuries and deaths at high altitude are becoming more significant problems than ever before. With more climbers on mountains, severe cases of high altitude pulmonary edema (HAPE) and high altitude cerebral edema (HACE) are leading to preventable injuries and deaths. A hyperbaric chamber is a pressurised environment that can mitigate the severe effects of HAPE and HACE in emergency situations by simulating a descent.
The scope of this project included extensive research, conducting expert interviews, facilitating prototyping, and testing as well as the production of a final working prototype
TEAM:
Clarissa Martins, Camille Dansereau, Morgan Munro, Yasmin Sirton, Huixian (Nimi) Chen, Birk Zukowsky, Naji Kaddoura, Mike Clarke, Xavier Drysdale, Leah Katz
Role:
Prototyping and material testing lead

Thanks to:
Capt. Chris Dare (CAF Officer, Canadian Mountaineer), Dr. Sanja Savic (President and Safety Director, BaroMedical Hyperbaric Oxygen Clinic), Maxim de Jong (Founder and President, Thin Red Line Aerospace), Dr. Anthony Chahal (President, Canadian Society of Mountain Medicine, Emergency Medicine Expert), Wendell Uglene (Manager of Research and Technology, Mustang Survival Corporation), Elizabeth Rose (Author and Canadian Mountaineer), Dr. Steven Roy (High Altitude Medicine Expert, Remote Medical Trainer,  Wilderness MD), Sue Fairburn (Professor, Wilson School of Design).
Also special thanks to Alex Biem of Tangible Interactions, Klause Kallesøe of BaroMedical, and Stephanie Flynn from KPU physics department.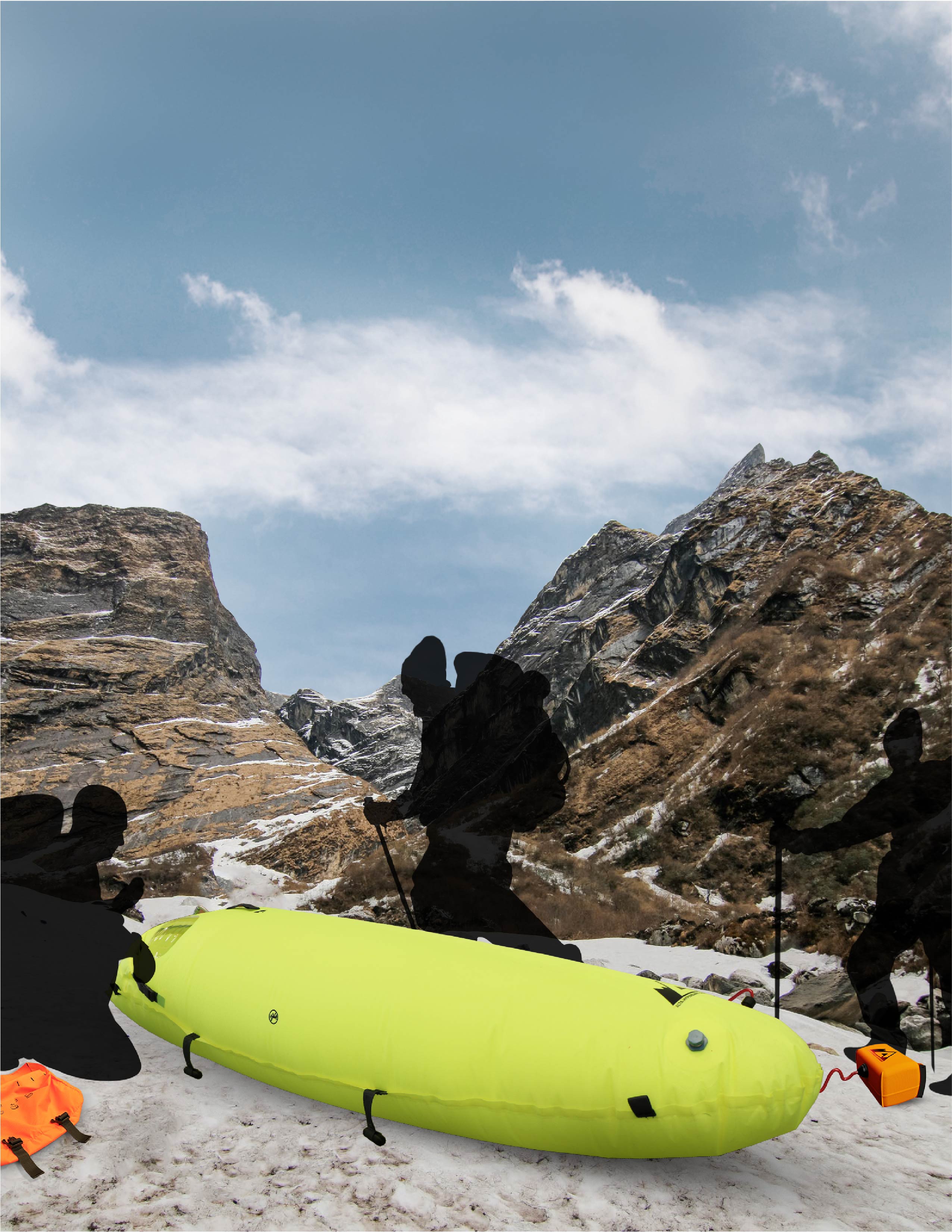 High altitude mountaineers are daring adventurers who seek to reach the highest peaks. Mountaineers face treacherous landscapes and unpredictable weather, making preparation for climbs critical. The increasing popularity of climbing has resulted in longer wait times to reach the summit. This, combined with increasingly unpredictable weather, has resulted in inexperienced climbers rushing their ascents and leaving inadequate time for their bodies to acclimatize. When the climb is rushed, and acclimatization has not been achieved, symptoms of HAI may set in.
The recommended treatment for HAI is always descent. When that is not possible, the use of a hyperbaric chamber can achieve similar results, reducing or alleviating symptoms until descent is possible. Existing chambers are heavy, isolate patients from outside aid, limit communication, and have been only available to trained professionals. Marketing and education has also been poor with many climbers unaware of their existence.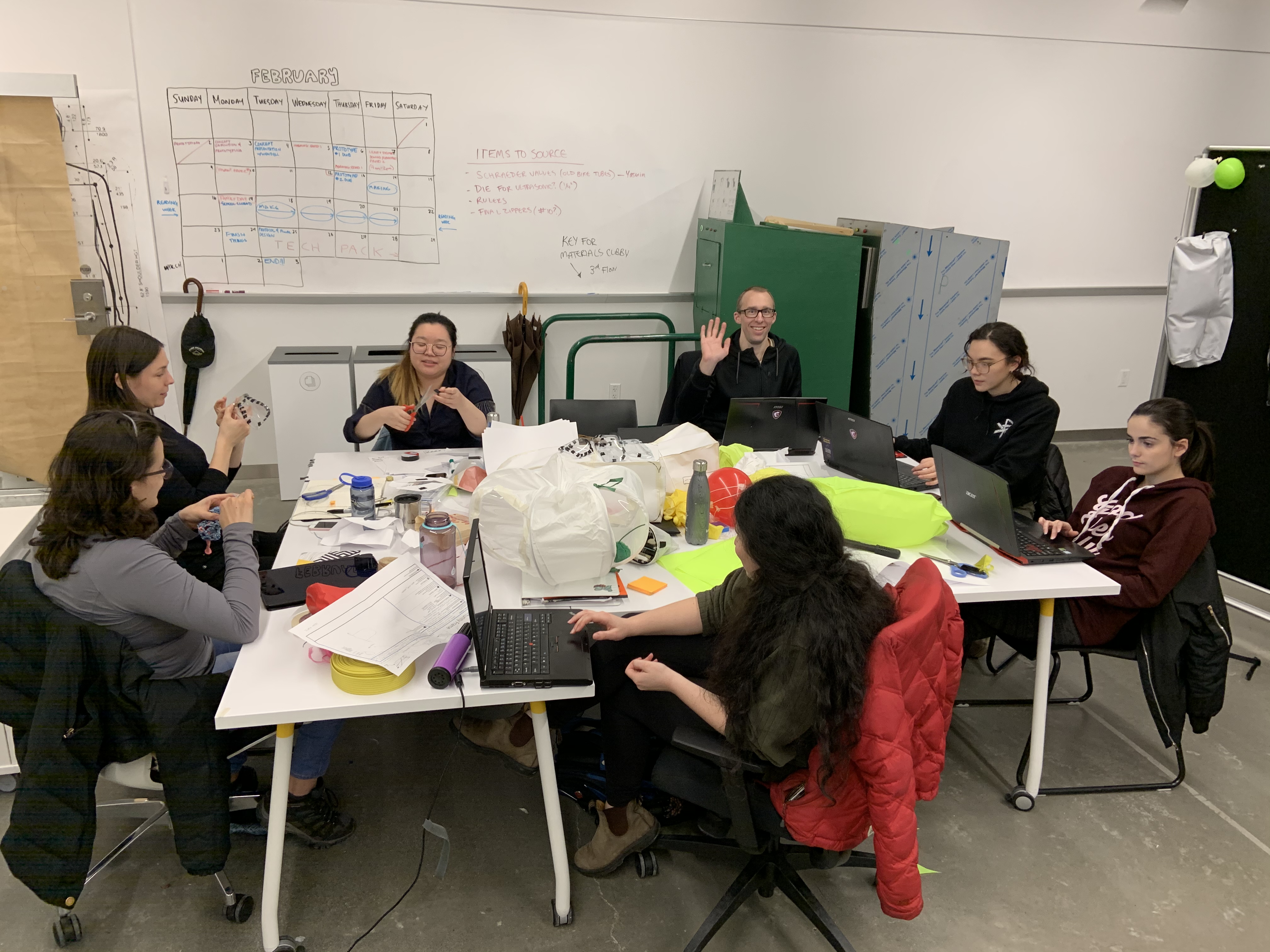 Extensive material testing informed decision making from start to finish. Initially, 38 materials were evaluated, weighed, and tested for air and water permeability. Material samples were then plotted on two axes of weight and air/water permeability, to decide what materials to use for further prototyping and testing. The findings determined that after air permeability, the most important factor in material choice was bond strength of seams, so the material selection was condensed to those with heat-bondable coatings before conducting further testing. The next tests included abrasion, tear, and seam strength. Seam strength was tested by pull-testing samples at 50mm/minute until the breaking point, and included flange seams, followed by taped flange seams, which were found to be at least two times stronger. The best fit material option for the chamber body was determined to be a polyurethane coated nylon, as well as a Polyvinyl Chloride (PVC) sheet for the windows. For external components including the carry case and pump, a nylon ripstop fabric was selected for its light weight, abrasion resistance and high tensile strength.
The design process behind Alta involved extensive experimentation and interviews with experts in the fields of mountain medicine, inflatables manufacturing, and hyperbaric oxygen therapy. Early stages included broad academic research and multi-stage material testing. The team also met with accomplished mountaineers to understand the complications of high altitude climbs. Once the groundwork had been laid, ideation began with sketching and quarter scale three-dimensional prototypes. It was quickly discovered that the most challenging part of prototyping was making a structure completely airtight. This led to further material and construction testing, until the prototypes could be reliably inflated to the required 2 psi. Prototypes were evaluated at every stage and assessed for form, function, and design features using a design evaluation matrix. The information from these tests influenced the resulting prototypes and design direction.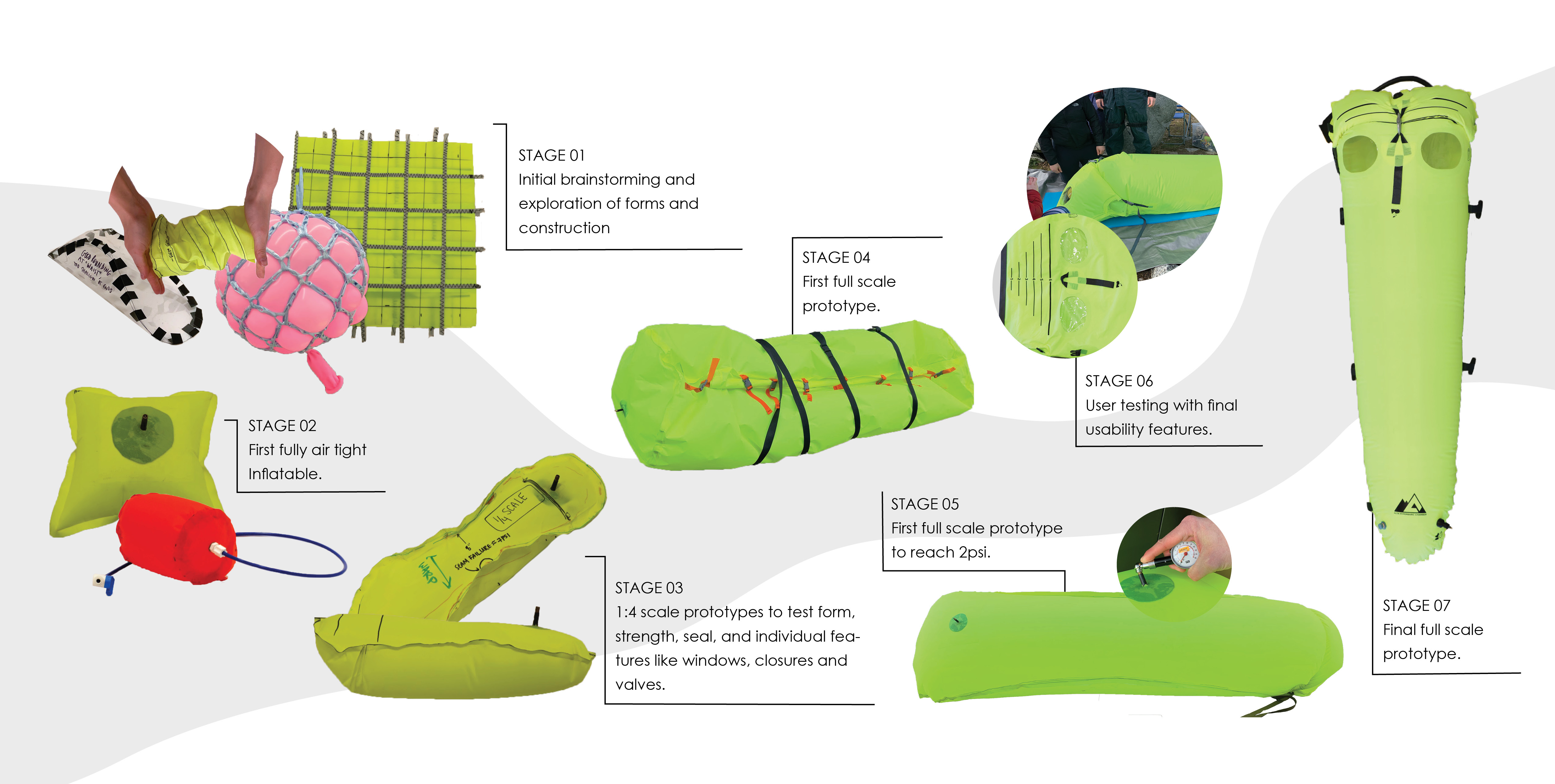 Once confident in the construction method at quarter-scale, full-scale prototypes were created which allowed for user testing. Prototypes needed to fulfill our functional requirements including: airtight construction, patient access, durability, portability, and ease of operation. Testing of near-final prototypes was conducted both in a controlled indoor setting, as well as in the field which provided key insights that informed the final design. Upon testing the final prototype, users agreed on a number of key points. The chamber was easy to set up, simple to inflate, and the roll top was intuitive to use. Testing was done by members of the design team who volunteered to act as conscious and unconscious victims of HAI. The testing protocol was developed using the insights gathered from interviews with search and rescue experts. The acting victim found the interior to be spacious and communication through the chamber was effective.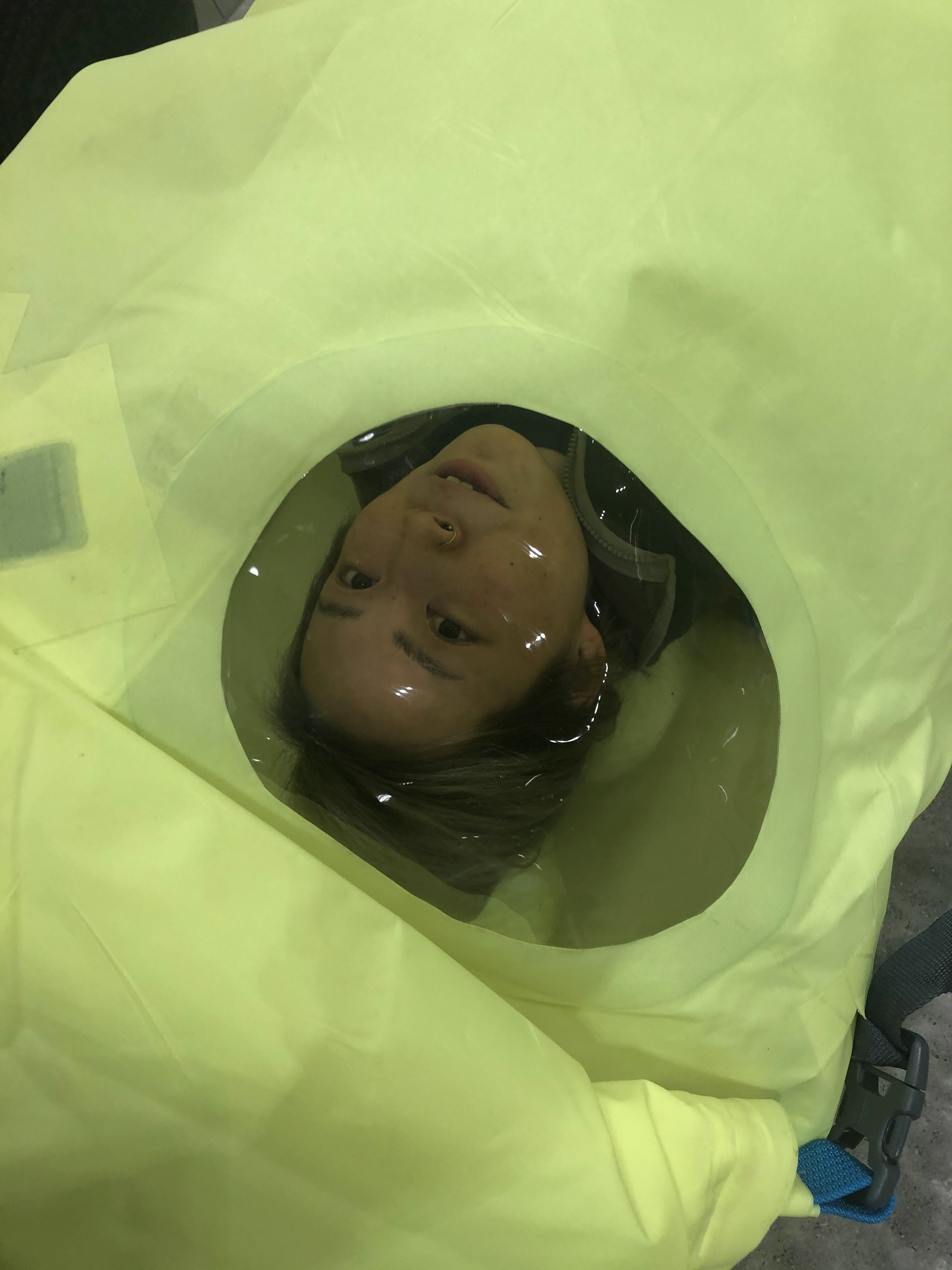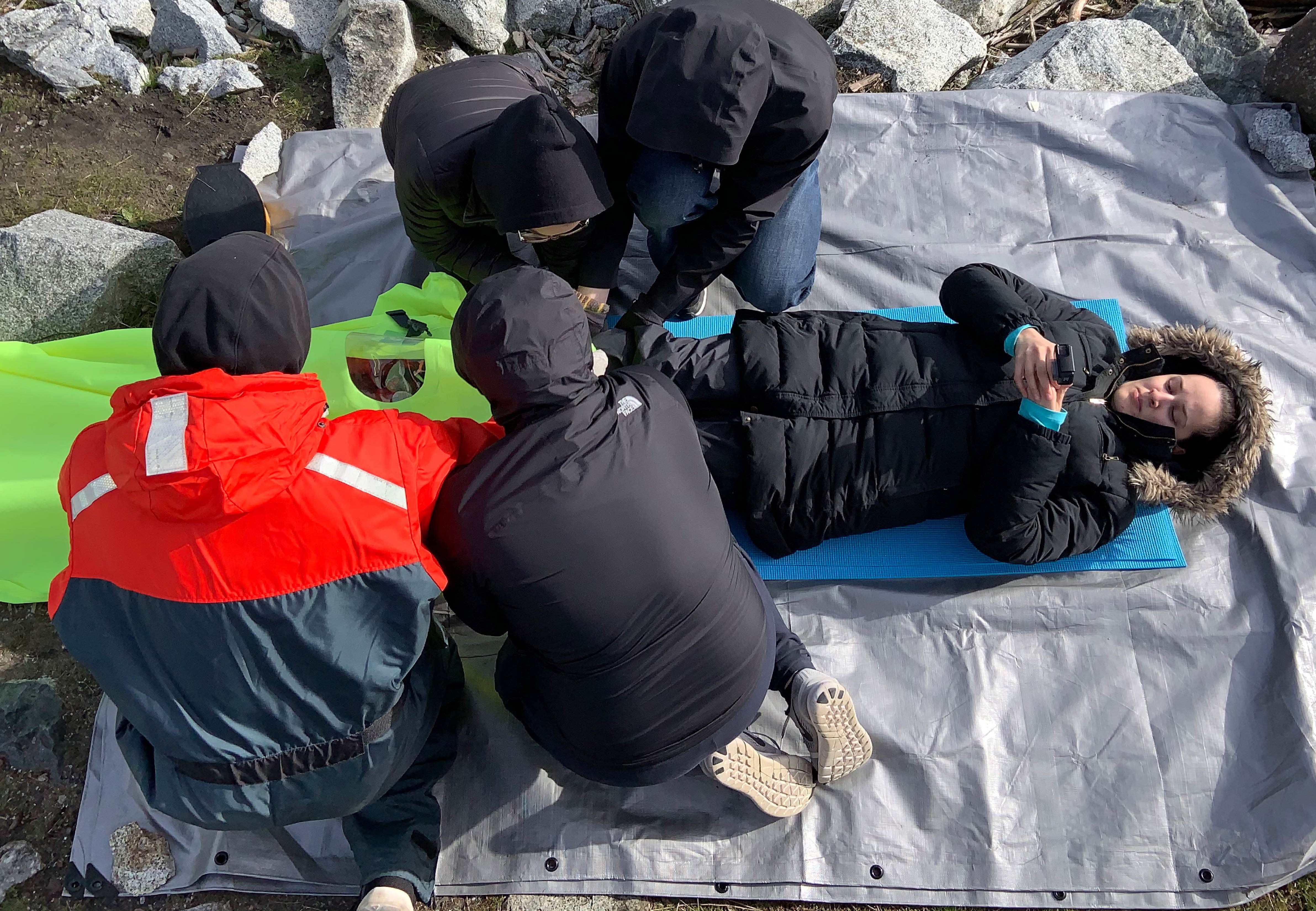 Alta is a lightweight and portable hyperbaric chamber for use in high altitude. At a total system weight of only 5.12 lbs, Alta is 2.58 lbs lighter than the Ultra-Lite Gamow bag, the lightest on the market. This allows recreational mountaineers and guides to comfortably carry it with them on expeditions. It has been designed to be the easiest chamber to use and operate to decrease the number of deaths occurring in the field. 
With Alta we were able to reduce weight by removing the heavy zippers that are standard in hyperbaric chamber design. Zippers are the most common failure point in the design, often requiring expensive replacement or repair. In our design we moved away from this failure point and replaced it with an equally secure and lighter weight solution of a roll-top closure.